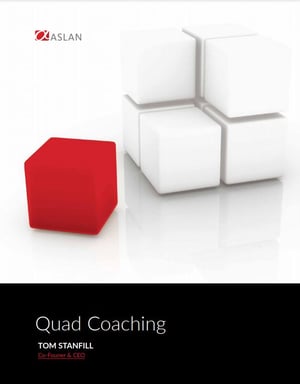 Most sales managers waste 50 days per year coaching the wrong reps
Learn how to stop making this mistake and improve your team's performance by investing less than 1% of that time in a 3-hour instructor-led virtual workshop. Download our new eBook to get you started.
QuadCoaching™
3-Hour Virtual Micro-Workshop
Most savvy sales leaders understand the impact of coaching. Not just conversation, but actual coaching. Yet it rarely occurs. We spend time training our reps but now it's time to lead with your leaders.
Did you know the average sales manager coaches less than 20% of their available time? (Source: CSO Insights) Did you also know that the average sales manager wastes one-and-a-half months out of each year coaching the wrong people?
The truth is, all research consistently exposes the 2 main reasons why sales managers don't coach: time and rep motivation.
ASLAN's QuadCoaching™ microshop will increase your team's revenue by making a bigger impact on results with the limited time available to coach. This 3-hour course shows frontline leaders how to:
Save Time - by deciding who to coach
Increase Rep Desire - by focusing on their goals and motivation
Maximize The ROI on Your Time - by aligning a development strategy based upon each team member's quadrant
Removing the two greatest barriers to coaching, time and desire to change, is the most effective coaching strategy to improve sales performance.
If you or your team are having this problem and want to solve it once and for all, learn more about this 3-hour ASLAN certified virtual instructor-led course (for up to 15 managers) and walk away with the strategy and tools to drive the change you seek.
Download QuadCoaching eBook